Start
9h Maratona do Porto - 42k

9h Family Race - 15k

10h30 Mini Maratona - 6k
Expo Marathon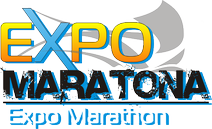 Expo Marathon will be located in Centro de Congressos da Alfandega do Porto on November 6th and 7th, between 10h and 19h.
This space is the place prepared for welcoming athletes arriving for a weekend of leisure and sports.
In this Expo athletes can collect their participants kit, receive all sorts of information about the event, as well as enjoy a whole variety of offers.
In 2014 more than 15,000 visitors visited the Expo Porto Marathon, this year come and take part of the expo show dedicated to "running" in Portugal!
Pasta Party
November 7th - 12h00 to 16h00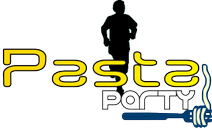 On November 7th, at Marathon Expo, we provide a meal of pasta specially created for athletes.
This meal rich in carbohydrates will provide the extra "fuel" needed for the marathon day.
Groups of Departure
Athletes may choose their group match in Porto Marathon in its own stand at Marathon Expo.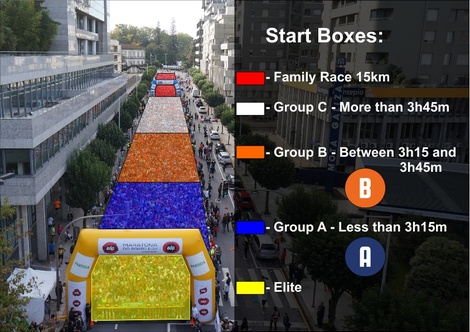 Choosing between the groups :
Group A - Less than 3h15m
Group B - Between 3:15 a.m. and 3:45 a.m.
Group C - More of 3:45 a.m.
START 9H00m
CHECK POINTS


---

First runner


---

Last runner


---

KM5

9H15m
9H37m

KM10

9H31m
10H25m

KM15

9H46m
11H08m

KM20

10H03m
11H51m
HALF MARATHON

10H06m
12H04m

KM25

10H15m
12H31m

KM30

10H31m
13H27m

KM35

10H47m
14H07m

KM40

11H03m
14H42m

MARATHON

11H10m
15H00m
Pacemakers
For runers who aim for a given time, Porto Marathon is offering you the chance to stick with the pace of an experienced runner. These pacemakers will run with an easily visible baloon attached to them and they will run the marathon to their defined finish time. 3:00, 3:15, 3:30, 3:45, 4:00, 4:15 and 4:30.
Wardrobe
Porto Marathon provides the athletes a bag drop in the start scene were they can leave their belongings and then collect them in the finish. For this we offer bags and self-adhesive with the race number to paste in the bags. Those self-adhesive are on the envelope with the dorsal and chip.
Refreshement

5km – water Vitalis
10km – water Vitalis
15km – water Vitalis + sponges + WC
20km – water Vitalis + sponges + Powerade + food + WC
25km – water Vitalis + sponges + Powerade + food + WC
30km – water Vitalis + sponges + Powerade + food
35km – water Vitalis + sponges + Powerade + food
40km – water Vitalis + sponges + Powerade + food + WC
Tea and Coffee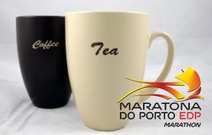 The organization have tea and coffee available for the participants on the Marathon and Family Race, in Queimodromo(near by Parque da Cidade do Porto), on the start.
Showers
At the end of the race, athletes can enjoy the showers available within the Parque da Cidade, Porto.
Entries Fee
Marathon
Until July 31 - 40,00€
Until August 31 - 50,00€
Until September 30 - 60,00€
Until October 31 - 70,00€
Last hour at Expo - 80,00€
VIP marathon
With your VIP membership will have the following advantages:
Dorsal Sub-Elite
Start in the First Line
Park in the Arrival area
Access to VIP area
Wardrobe in the VIP area
Lunch in the VIP area
SMS Results
Family Race 15k
Until July 31 - 10,00€
Until August 31 - 12,50€
Until September 30 - 15,00€
Until October 31 - 20,00€
Last hour at Expo - 25,00€
Fun Race 6k
Until September 30 - 5,00€
Until October 31 - 6,00€
Last hour at Expo - 10,00€
Bank details
Runporto.com – Organização de Eventos Desportivos Lda
Bank: Caixa Geral de Depósitos
Agency: Monte dos Burgos
NIB: 003505020069983203008
IBAN: PT50 0035 0502 00699832030 08
BIC SWIFT: CGDIPTPL