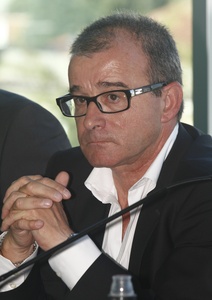 Welcome to Porto Marathon EDP
To run a marathon is an enormous challenge we sometimes decide to take on. When we finish a marathon we feel a tremendous pride and a huge satisfaction for our accomplishment. Most of those times we feel so happy that, regardless of all the exhaustion, our thoughts hover to the next marathon.
To host a marathon is no smaller task. But, in the end, it gives us an immense pleasure and, like the runners, after a marathon is over we immediately schedule the next.
This year, the 12th edition of the "Maratona do Porto EDP" is more promising than ever. We will do all that we can in order not to let you down. We intend to promote our "Maratona do Porto EDP" both at national and international levels, hoping to boost tourism in PORTO and in PORTUGAL.
Director of the Maratona do Porto EDP
Jorge Teixeira